By SKY NEWS | Monday 19 June 2017 | 08:13, UK,
Witnesses say six or seven people were on the ground as one man was held by survivors and then arrested while another two fled.
One man has died after a white hire van hit 11 worshippers leaving a Muslim welfare centre in north London.
The Metropolitan Police said eight people had been taken to hospital after the collision at the junction of Whadcoat Street and Seven Sisters Road, Finsbury Park.
A further two people were treated at the scene where police arrested a 48-year-old man who had been held by members of the public amid angry scenes.
According to a witness, the van driver said: "I want to kill Muslims."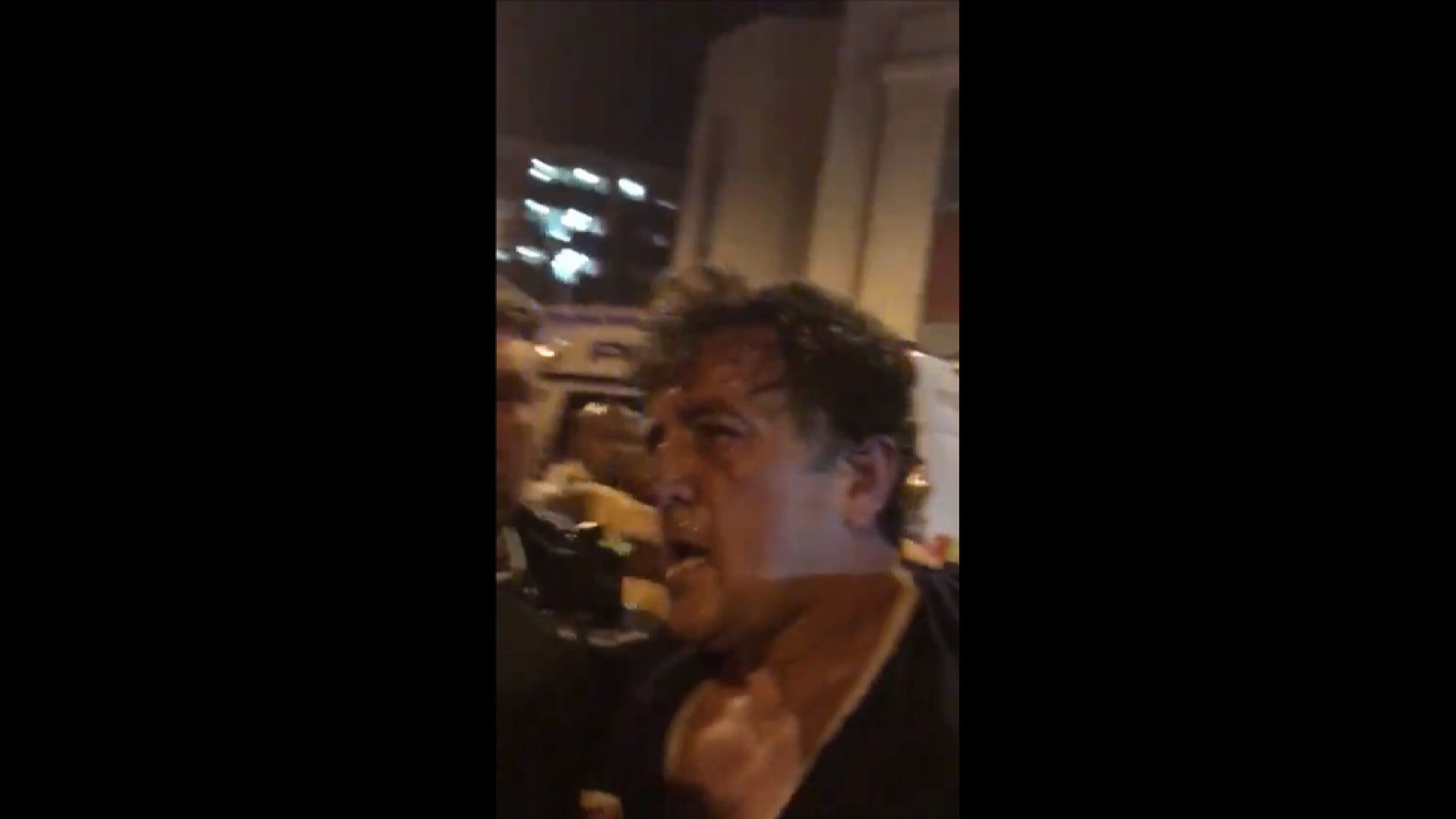 The Counter Terrorism Command Unit is helping the Met Police with its investigation into the incident, which witnesses described as a deliberate attack.
"Police have confirmed this is being treated as a potential terrorist attack," Prime Minister Theresa May said. "I will chair an emergency meeting later this morning.
"All my thoughts are with the victims, their families and the emergency services on the scene."
Asked about mosque security, Home Secretary Amber Rudd told Sky News: "We have a places of worship fund, which we announced last summer, and we will make sure that we do all we can to reduce these sort of attacks.
"We have made available two-and-a-half million pounds. I recently announced who would be getting those additional funds, which included 12 mosques, and actually I have repoened it recently to make sure that any additional place of worship that feels the need can apply for extra security."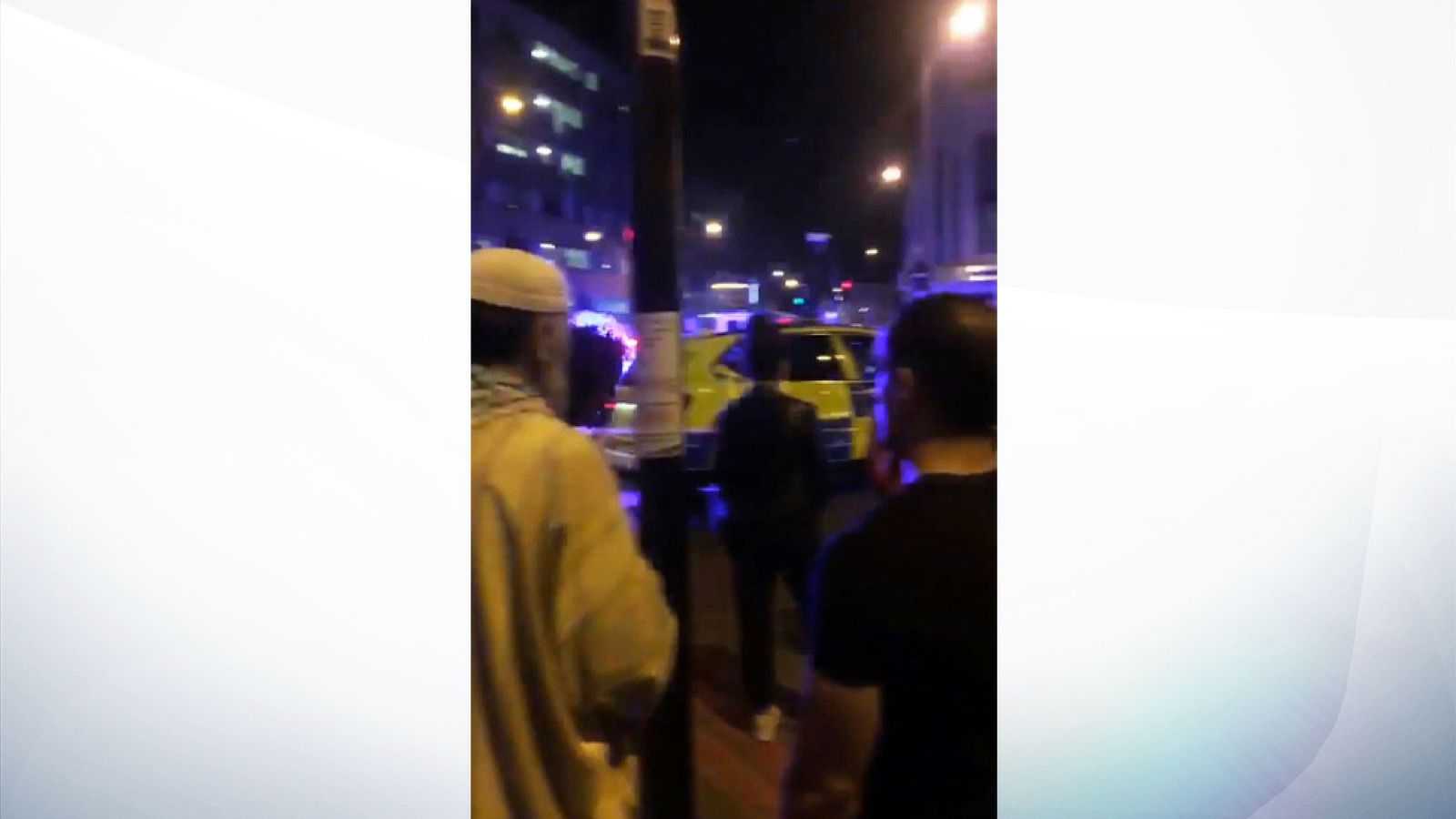 The London Ambulance Service said it was called to the incident at 12.15am on Monday morning.
"We sent over 60 medics to the scene, including ambulance crews, advance paramedics and specialist responses teams and an advance trauma team from London's Air Ambulance," said the service's Deputy Director of Operations, Kevin Bate.
:: LIVE: One dead as 'van hits mosque worshippers'
It happened outside Finsbury Park's Muslim Welfare House, which is nearby the Finsbury Park Mosque.
Toufik Kacimi, chief executive of the Muslim Welfare House, said the man who was arrested had to be rescued by the imam at the centre to stop him being attacked.
Mr Kacimi said when he did so, the driver said to him: "I've done my bit."
There are reports that another two people leapt out of the van but escaped, although this has yet to be confirmed by police.
Just to confirm this was done by a coward who had absolutely no right to target these innocent people. #FinsburyPark
The Muslim Council of Britain's (MCB) general secretary Harun Khan said: "During the night, ordinary British citizens were set upon while they were going about their lives, completing their night worship. It appears from eyewitness accounts that the perpetrator was motivated by Islamophobia.
"Over the past weeks and months, Muslims have endured many incidents of Islamophobia and this is the most violent manifestation to date.
"Given we are approaching the end of the month of Ramadan and the celebration of Eid with many Muslims going to local mosques, we expect the authorities to increase security outside mosques as a matter of urgency."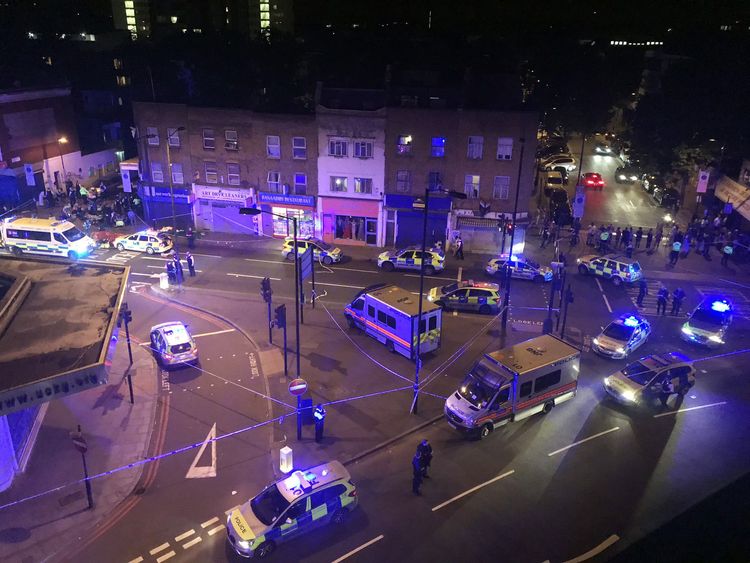 A delivery driver who was on a bike about three cars behind the incident, Mohammad Abdullah, told Sky News he saw the van take a sudden left turn.
"I think he done it on purpose. I was on a ped. He was about three cars in front of me. He came in a bus lane and took a sharp left.
"He went on top of the people. He actually ran them over. It was a white van.
"There was three of them. Two of them ran away. The other was held at the scene until the police came. Some people wanted to beat him up.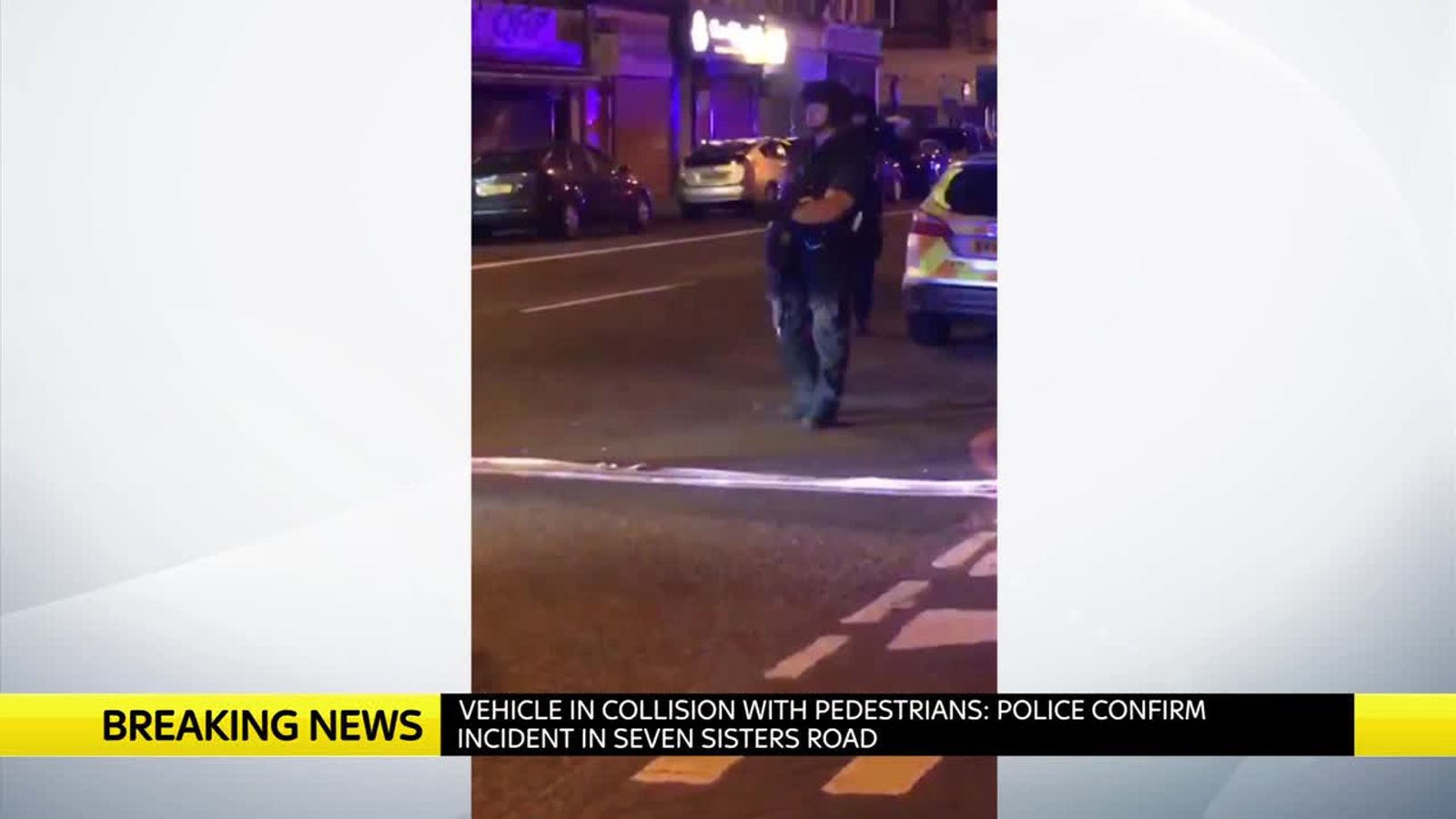 "I've seen about six or seven people on the floor. Most of them was male. It was exactly the same time as the prayers finished. As soon as it finished, this guy came. I think (the road he took) is a blocked road – It's not even a through road.
"The other two got away. They must be somewhere around Finsbury Park. They ran away somewhere."
"He had a tattoo on his back. He was not ill. He was not drunk. He got arrested by five or six police officers. They took him away. They never dropped him or nothing."
He said in his opinion it was a terrorist attack.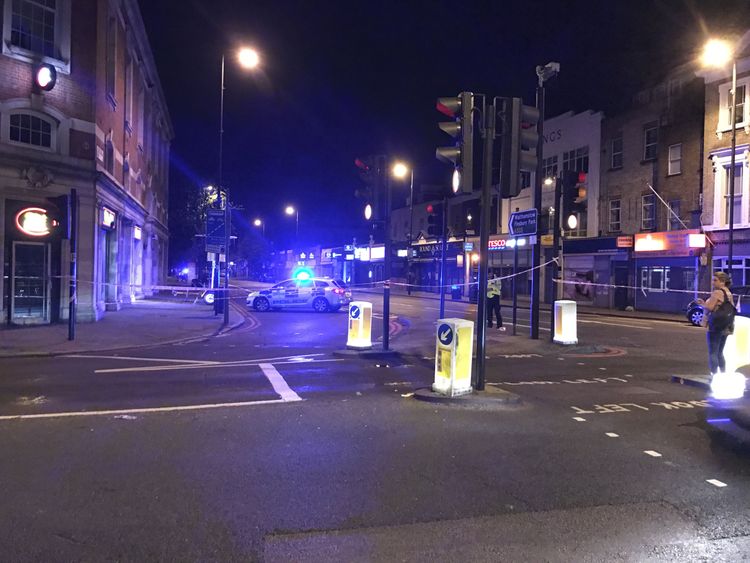 Sky News reporters on the scene say it is tense – with one man shouting at police officers.
He claimed it took them one hour to arrive at the scene while "someone bled to death".
Many at the scene expressed anger that the incident was not reported as a suspected terror attack sooner.
Another witness, Adil, told Sky News that the response time by police and the other emergency services was much longer than that taken after the London Bridge and Manchester attacks but other witnesses told Sky that the police response was very fast.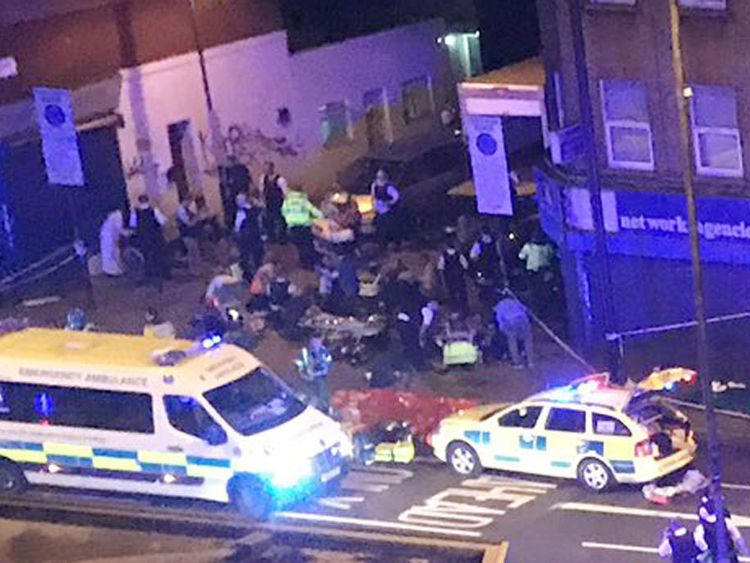 Dozens of police, fire and ambulance service vehicles have been sent to the area, armed officers are on the scene and a helicopter is overhead.
The Met Police said in a statement: "The driver of the van – a man aged 48… has been taken to hospital as a precaution, and will be taken into custody once discharged. He will also be (the) subject of a mental health assessment in due course.
"A number police units are at, and managing the cordons around, the crime scene, including local officers and those from neighbouring boroughs – supported by armed officers and the Territorial Support Group.
"The investigation of the incident is being carried out by the Counter Terrorism Command.
"At this early stage of this investigation, no other suspects at the scene have been identified or reported to police, however the investigation continues."
Transport for London says Seven Sisters Road has been closed northbound between Hornsey Road and Rock Street.