Tuesday 23 May 2017
Saffie Rose Roussos, has been described as "simply a beautiful little girl who was loved by everyone".
Saffie's headteacher says 'her warmth and kindness will be remembered fondly'
SKY News | By Connor Sephton, News Reporter |
An eight-year-old girl is among the three named victims in the Manchester terror attack, which has killed 22 people.
Saffie Rose Roussos was a pupil at Tarleton Community Primary School, and she had been attending the Ariana Grande concert with her mother and her older sister.
Her headteacher, Chris Upton, said news of her death had come as a "tremendous shock" – and he described Saffie as "simply a beautiful little girl".
He added: "The thought that anyone could go out to a concert and not come home is heartbreaking.
"She was loved by everyone and her warmth and kindness will be remembered fondly. Saffie was quiet and unassuming with a creative flair."
:: Live updates: Manchester suicide bombing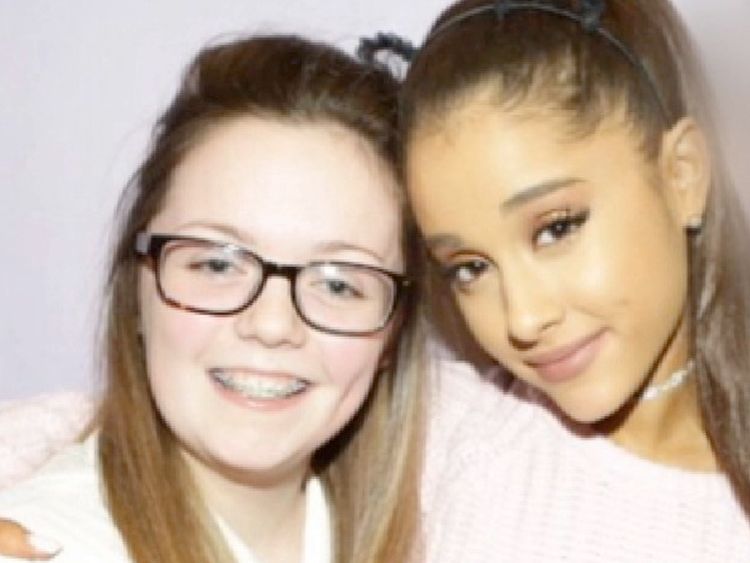 Georgina Callander also lost her life in the attack, which happened at the end of the concert.
The 18-year-old had posed for pictures with the American singer in the past, and she was studying health and social care at Runshaw College in Lancashire.
A day before the concert, she had tweeted Grande and said: "SO EXCITED TO SEE U TOMORROW."
Greater Manchester Police named John Atkinson as another killed in last night's bombing. He was a 26-year-old from Bury who has been described as a "beautiful soul" by those who knew him.
Islamic State has claimed one of its members carried out the terror attack at the sold-out concert, which was attended by thousands of young people.
:: Security services think they know who bomber is
Greater Manchester Police says a lone male attacker carrying an improvised explosive device was responsible for the bombing.
The Prime Minister says many of the 59 people injured are being treated for life-threatening conditions.
Patients have been taken to eight hospitals across Manchester – and 12 people under the age of 16 are being treated at Manchester Children's Hospital.
Investigators are trying to establish whether the attacker, who also died at the scene, was part of a wider network.
A 23-year-old man in south Manchester has been arrested in connection with the bombing – and according to witnesses, he was apprehended by police as he walked down the street.
Investigators have also performed a controlled explosion at an address in Fallowfield.
:: Security 'did not check bags' at the arena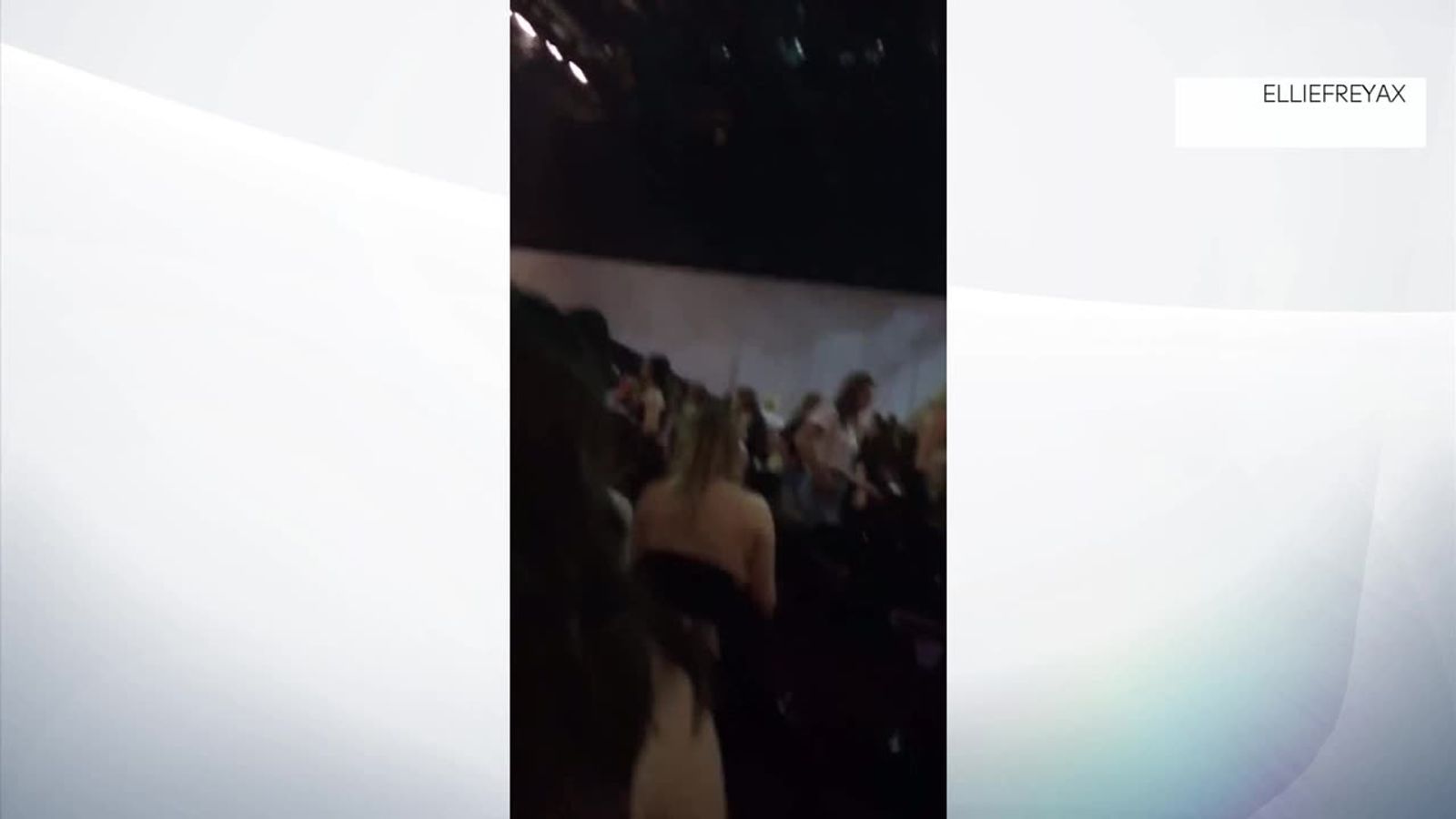 In a statement from Downing Street after an hour-long emergency COBRA meeting, Theresa May said the police and security services believe they know the identity of the attacker – but they are not releasing his name at this stage.
The Prime Minister, who has now travelled to Manchester, added: "It is now beyond doubt that the people of Manchester and of this country have fallen victim to a callous terrorist attack – an attack that targeted some of the youngest people in our society with cold calculation."
She said the bomber "deliberately chose the time and place to cause maximum carnage" – adding that the attack stood out for its "appalling, sickening cowardice".
The Queen said the whole nation had been shocked by the attack, and offered her deepest sympathy to all those affected.
"I would like to express my admiration for the way the people of Manchester have responded, with humanity and compassion, to this act of barbarity," Her Majesty added.
:: What we know so far about explosion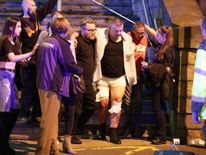 An injured man is helped away from the arena Pic: Joel Goodman/LNP
Footage from inside the venue showed fans running and screaming after the explosion, which happened at about 10.35pm on Monday.
Several young people have been reported missing, with worried friends and relatives appealing for information on social media.
A hotline has been set up for those with concerns over loved ones who remain unaccounted for. Those worried about their friends or family should call 0161 856 9400 or 0161 856 9900.
Ariana Grande, who was not harmed in the attack, tweeted: "broken. from the bottom of my heart, i am so so sorry. i don't have words."
Her manager, Scooter Braun, said they mourned "the lives of children and loved ones taken by this cowardly act".
:: Bomb attack witness: 'It was absolute carnage'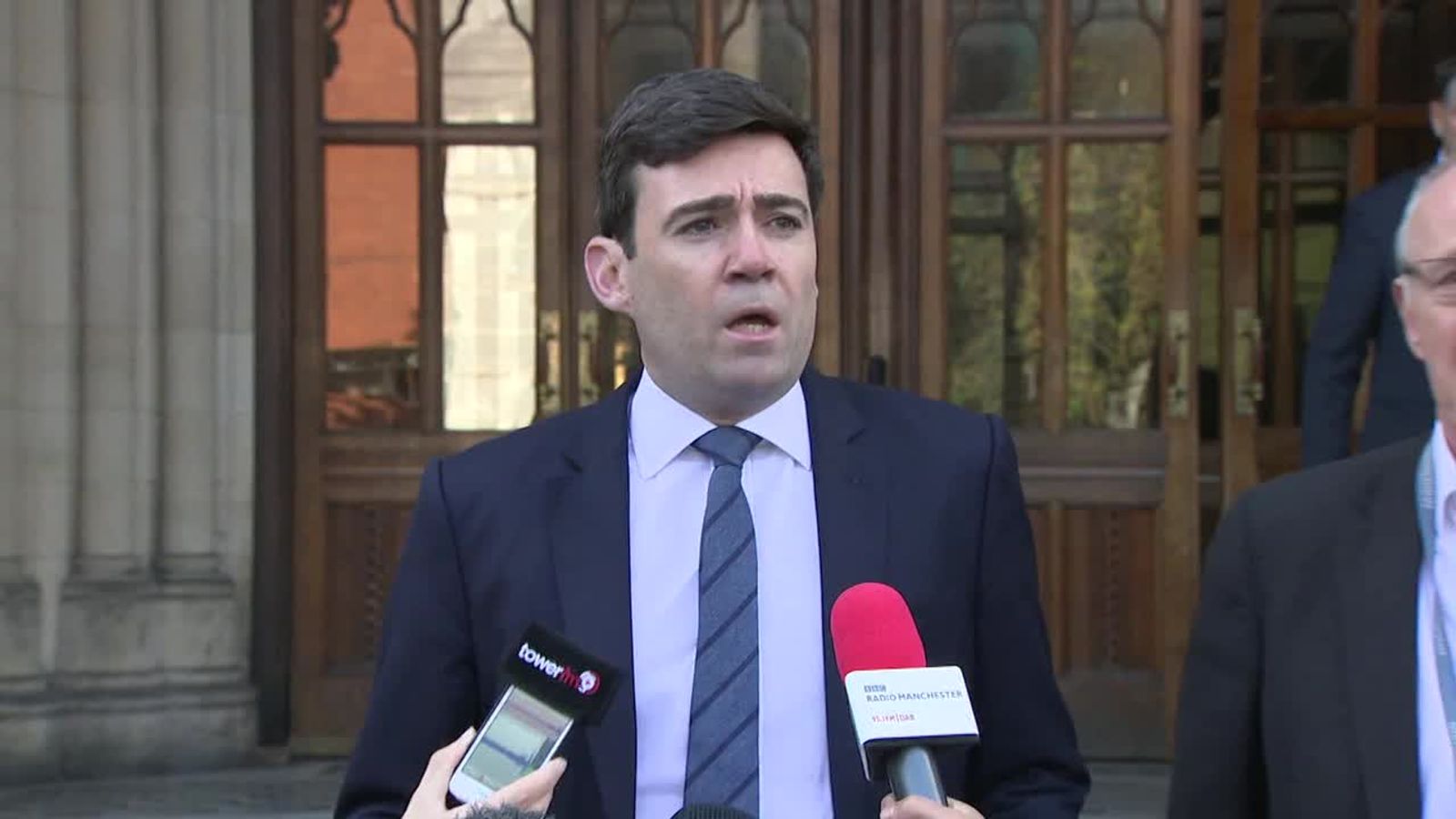 Andy Burnham, the mayor of Greater Manchester, said: "It is hard to believe what has happened here in the last few hours and to put into words the shock, anger and hurt that we feel today.
"These were children, young people and their families that those responsible chose to terrorise and kill. This was an evil act. We are grieving today, but we are strong."
A forensic search has been taking place at the arena, and nearby Manchester Victoria train station will remain closed "until at least the end of today".
:: Special report on the Manchester terror attack at 6.30pm and 9.30pm on Sky News.