Saturday 18 February 2017
Donald Trump is speaking at a rally in Florida days after branding some of America's top media outlets the enemy of the people.
After an introduction from wife and First Lady Melania, who said he was "creating a country of great safety and prosperity", Mr Trump reminded the audience it had been one month since his inauguration.
"I'm here because I want to be among my friends and among the people.
"This was a great movement – a movement that has never been seen before in our country or probably anywhere else."
Sky News US Correspondent Hannah Thomas-Peter said: "That was a carbon copy of campaigning Trump, right down to the music.
"It was Donald Trump at his campaigning best – riffing on issues he cares about…that's the kind of speech that won him the election."
Mr Trump told his audience that they were part of a movement "sweeping the world", adding: "Look at Brexit".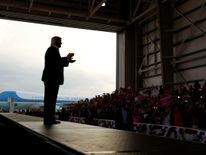 He said: "I also want to speak to you without the filter of the fake news", adding that the "dishonest media" had become "a big part of the problem – they are part of the corrupt system".
"They have their own agenda and their agenda is not your agenda," he told the cheering crowd.
The words came just days after his last attack on the media in which he said "the level of dishonesty is out of control".
Mr Trump's presidency has lurched from crisis to crisis since his inauguration, including the botched rollout of his immigration order, the struggles to confirm his Cabinet picks and a succession of reports about strife within his administration.
But Mr Trump told his audience that "making America great again" is a campaign and "it's not easy, especially when we're also fighting the press and the media".
He then moved onto trade, saying again that "every country over a long period of time has been taking advantage of the stupidity of our politicians and it is not going to happen any longer".
He also threatened companies moving jobs overseas, saying they would "pay a very, very big price".
Mr Trump promised the audience that "jobs are starting to pour back in…like you've never seen" and said he had saved the day for American business in a fighter jet deal and a deal to build the pipes in the Dakota Access Pipeline project.
For most of Mr Trump's 45-minute speech there was little that was new: there were the familiar phrases such as "we don't win anymore", "drain the swamp" and his catchcry "make America great again".
But about halfway through the event, he called on a man in the audience who said he had been waiting since 4am to hear the President speak.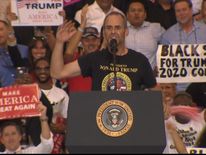 The man, who was wearing a t-shirt with a picture of the President, came to the stage and said: "When President Trump during the election promised all these things that he was going to do for us, I knew he was going to do this for us."
Then Mr Trump reappeared at the podium, saying: "I wouldn't say the Secret Service was thrilled with that but we know our people – we know our people."
Hannah Thomas-Peter agreed: "The Secret Service will have had a heart attack about that but it will have played very well with Donald Trump's supporters."
He also mentioned the wall being planned between the US and Mexico,saying "construction on the great border wall will start very shortly".
Mr Trump hit out at the judges who had put on hold his travel ban,which halted travel to the US for citizens of Iran, Somalia, Iraq, Libya, Sudan, Syria and Yemen.
The order was blocked by a US federal court but Mr Trump has said he will order a new ban to be put in place.
He told the crowd in Melbourne, Florida: "We will be doing something over the next couple of days…we won't give up, we never give up."
The Gulf countries would pay for safe zones for refugees, he added, "because they have nothing but money…We don't want people with bad bad ideas, we don't want that." – SKY NEWS